Camp Quality
Camp Quality believes every Australian child impacted by cancer should have every opportunity to thrive. They do this by providing innovative programs and services to develop life skills and strengthen the wellbeing of children aged 0 – 13 growing up with cancer, and their families.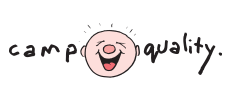 Camp Quality supports children impacted by cancer – be that their own diagnosis or the diagnosis of someone they love (parent, carer or sibling). Camp Quality are there for children and their families from the first experience of cancer through every stage, from treatment to remission and in the case of bereavement.

The generous funds donated by the Audi Foundation are being directed to Camp Quality's Primary School Education program to continue to grow and evolve the program to meet the needs of children nationwide who are impacted by cancer.
 The Primary School Education Program
Camp Quality's Primary School Education Program builds resilience through education, by providing kids and their peers with information about cancer and its impact on individuals and their loved ones.

The loveable and vivacious puppets - Kylie, Dean and Melissa - visit primary schools and pre-schools of children diagnosed with cancer, and children who have a diagnosed parent or sibling, across Australia. They perform free puppet shows which are further supported by a suite of educational resources for teachers to use in the classroom following the performance.

In 2017, over 165,000 students watched our Primary School Education Program puppet show.

"Your puppets are a delight, and a fabulous tool to help children, and adults, alike, to be more aware, and understanding about the emotional upheavals that occur, when someone we love and cherish, is so sick. Thank you, from the depths of my heart." - Camp Quality Mum
The story of the puppets
Kylie is an 8-year-old girl who is undergoing treatment for leukaemia. Her friend, Dean, has a mum who is living with cancer too. Through their stories, the show explores the side effects of cancer treatment, the anxieties of a child returning to school after a cancer experience, how to be supportive of a classmate impacted by cancer and the power of positivity. Very importantly the puppets teach children and that cancer isn't contagious. Educating students about the facts in an engaging and age appropriate way helps reduce the likelihood of bullying, exclusion and anxiety.
The benefits of the Primary School Education Program
There is no other program offering this type of educational support to schools. Research shows 96% of parents find the Primary School Education Program extremely effective at increasing overall wellbeing, optimism and happiness by building awareness and understanding of cancer.

An independent review by KPMG showed that for every $1 spent on the Primary School Education Program there is almost a $7 social return on investment.

Camp Quality's Primary School Education Program is a fun, interactive and informative way to educate kids about cancer.
To learn more about Camp Quality please visit www.campquality.org.au