Foundation for Rural and Regional Renewal
The Foundation for Rural & Regional Renewal (FRRR) helps local leaders create vibrant, sustainable and adaptive communities in rural, regional and remote Australia. Education underpins strong communities and FRRR's Back to School program helps rural children in need have what they need to be ready to learn.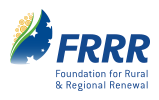 Educational equality from cradle to career
FRRR believes education is a fundamental right and that a quality education should be accessible, no matter where you live.
Back to School is a national program that helps rural and remote children and young people access quality educational experiences from 'cradle to career'.
Through Back to School, FRRR provides gift vouchers from Target or selected local retailers that can be redeemed for items such as school uniforms, clothing, shoes, school bags and stationery. It has been funded by various trusts and foundations with the Audi Foundation now generously supporting the program.
Between 2005 and 2016, FRRR distributed more than 141,000 vouchers valued at over $7 million to children in need, and their families. But there is always more demand than available funding.
Thanks to support from the Audi Foundation, another 1,000 children each year will receive vouchers.
A small gift, with a big impact
The voucher is worth much more than its monetary value: imagine a little girl, the youngest in her family, proudly walking into the playground wearing her new jumper and shoes - the first new things she's ever had. Or having a sleeping bag so she can go on camp, just like the other kids.
Some of the benefits flowing from this can include:
increased school attendance;
increased self esteem and pride
improved engagement in learning; and
reduced stigma and bullying
Feedback confirms the vouchers really are a catalyst for change, creating a positive attitude toward going to school, or for some recipients, it is the helping hand to keep them in school. A Year 12 student living independently and reliant on Youth Allowance said the support helped her remain in school, and afford things like chef's whites, so she could participate in a work readiness program. A principal said that "Simply having a uniform that fits and shoes without holes can give kids the confidence to participate and learn at school, as well as stand up for themselves."
"It has helped in a way you will never know. Being able to buy him shoes and clothes and not have to worry about where to get the money and/or what we have to give up or go without to get him these things. Thank you, thank you, thank you." A parent
To learn more about FRRR and the other programs it operates to various aspects of rural life – from education and culture, arts and tourism, to natural disaster recovery and maintaining community infrastructure – visit www.frrr.org.au.