Country Education Foundation of Australia
The Country Education Foundation of Australia (CEF) helps rural and regional communities support their local school-leavers – and in doing so, to invest in the future of rural and regional Australia.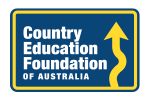 Young Australians in rural and remote areas are as bright and ambitious as those living in metropolitan centres. But when it comes to higher education, training and jobs, thousands of them are missing out.

The reality is that to shape a career or undertake further education these young Australians must often leave home, travel and live in or near metropolitan centres.

For many, the financial, emotional and social obstacles are just too great – and they are unable to relocate in order to take up further study or work.

Making a difference

This is where CEF steps in. CEF is a national not-for-profit organisation, which establishes and supports local education foundations across Australia – enabling them to raise funds for local youth to help them with their transition from high school into further education, training and jobs.

Starting with a single foundation in Boorowa in 1993 the CEF family has grown into a network of more than 40 education foundations operating in Queensland, New South Wales, South Australia, Victoria and the Northern Territory.

CEF also partners with more than 30 universities, corporate and philanthropic organisations across the country to leverage and grow the support it provides.

Proven results

The Country Education Foundation of Australia's approach of locally based fundraising, grants and support is a proven success.

In 2021 CEF helped 486 young Australians, granting them almost $2 million in funds and scholarships.

Independent research shows that for every dollar invested in CEF's work, a return of $4.99 is created in social value – changing the lives of young Australians, their families and their communities.

Research also shows that more than 90 per cent of CEF grant recipients go on to complete the course or training for which they are funded. By investing in these young people we are all investing in their future and in the future of rural and regional Australia.