Zephyr Education Inc
Zephyr Education Inc is an Australian charity that supplies children who have to change schools because of domestic or family violence with uniforms and everything else they need to restart their education as quickly as possible.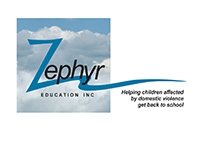 Zephyr Education Inc is a community based charity, run entirely by volunteers, that currently operates in Queensland, Tasmania, Western Australia, the ACT and the Northern Territory.
Children who have to flee their homes because of domestic violence, often with just the clothes they are wearing, also have to leave the one place where they feel safe – their school. Imagine having to leave behind all your school friends and start at a different school without the right uniform and without the same books and other school items as your new classmates. These children face heightened risks of falling behind in their education and being bullied because they look different.
This is where Zephyr Education steps in. We supply these children with uniforms, shoes, school bags, textbooks, stationery, swim packs and everything else they will need at their new school. We also supply laptops and iPads, where the child or young adult needs a computer for educational purposes and pay resource fees for access to school programs as well as sports fees to ensure the children don't miss out on these important activities.
We provide our support at a critical time in these young lives and now, as a result of our partnership with Audi Foundation, many more of these vulnerable children will arrive at their new schools with renewed confidence and with a real opportunity of successfully resuming their education.
We do not meet the children we help because of the need for confidentiality. However, we frequently receive emails from their case workers describing the impact of our assistance. Here is one example:
For (the child) to start school with brand new uniforms like the majority of the other kids in her class, was such a huge moment. Being able to pick them out herself and try them on meant that she felt comfortable going to the school and knowing that she was just like all the other kids starting this year. She has been given an opportunity to have something new when previously all she has ever been given is second-hand clothes that are too big or too small, and never comfortable.